Every chair has its story, and it is so exciting when a glimpse into its previous life is revealed as you strip it down. It can be quite a disgusting job with years of dirt and fragments of life building up between the layers of fabric. I once found a child's milk tooth down an arm of a substantial arm chair. The owner had bought the chair in calico and picked the top cover herself. She nursed all her 3 children in that chair. Having fledged and away, 20 years on the chair needed re-covering.  When I returned the tooth to the owner she nearly cried. All those memories in just one chair.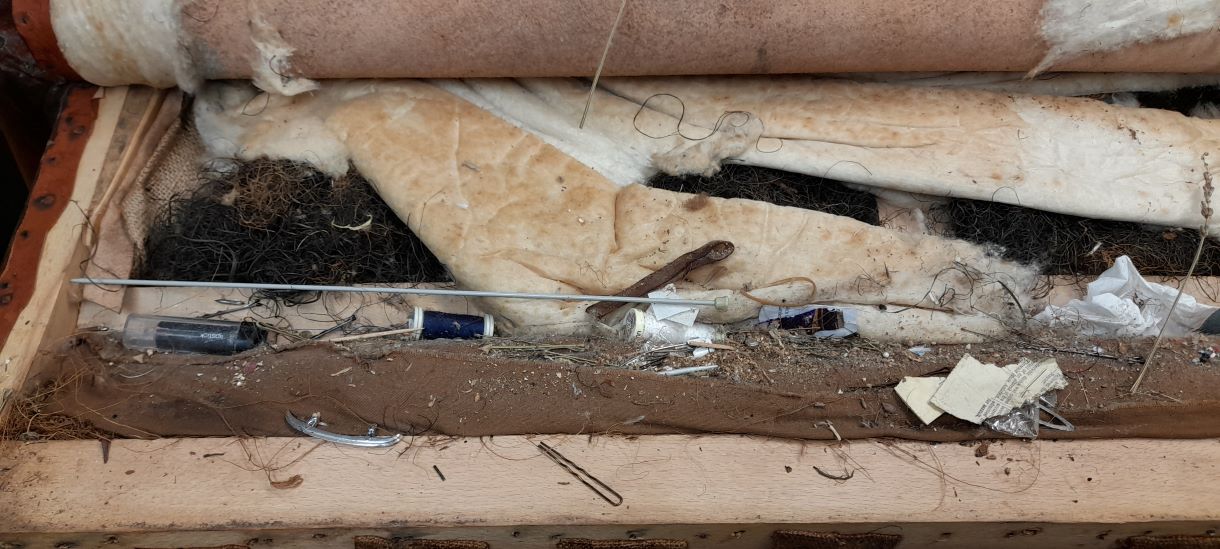 But this story is about Nancy. Mrs Nancy Alice Bain of 1 Groathill Gardens West, Edinburgh. Some of this is supposition but having put my theories to a friend of mine who is a researcher, my assumptions are plausible. Nancy, more affectionately known as Honey married Alan and they lived all or certainly most of their married life in a very neat white painted semi-detached bungalow of interwar period in a good suburb of Edinburgh. Alan would, without doubt have been a white-collar professional, Nancy raised the children, and it was likely that as a housewife of the second half of the twentieth century she probably didn't work.
They were married for nearly sixty years. Honey took great pride in her appearance; her lipstick, finely plucked eyebrows and her long hair accurately pinned into style. Alan and Honey enjoyed gardening, Honey certainly loved knitting, and may well have made garments for their grandchildren. She also had a passion for chocolates often playing merry hell with her digestion but nevertheless, was rather partial to a Roses chocolate. Alan probably smoked as he sat in his armchair on an evening.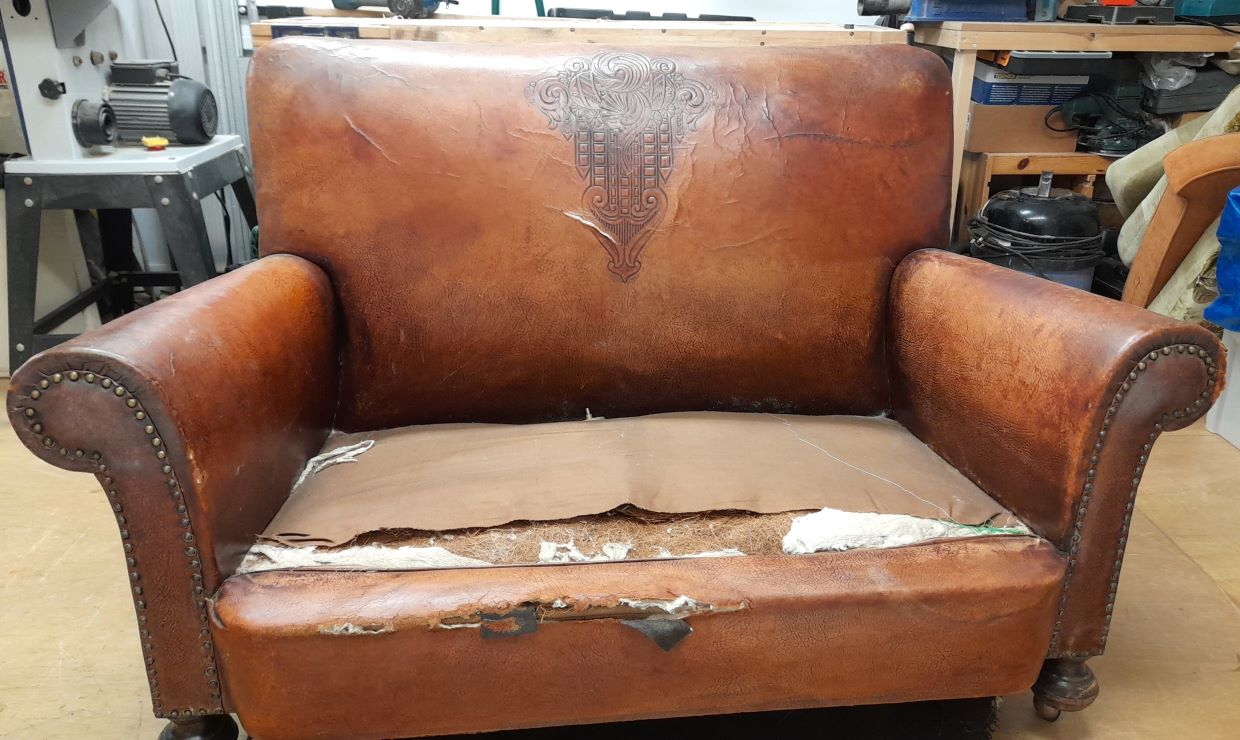 As a wedding present they were gifted this magnificent suite of two arm chairs and a two seater sofa. Made in the finest Connolly leather these pieces were the pride of the home. In a traditional style, these reproduction chairs were well made in antiqued coloured leather with a large embossed detailing on the inside back; these pieces looked the part. Made to last, the suite outlasted Honey and Alan, and having been bought on eBay by my customer last year, a re-covering was well overdue. Having googled the address I found on the corner of a letter, the house had last been sold in 2022 with no previous record of the sale traced. It is plausible that the furniture was acquired by the seller through house clearance when the surviving spouse died. And it is the presence of the nappy pin and toy car bumper that lead me to suppose that Alan and Honey were a couple rather than siblings. My customer did not know the age of the pieces, however the man who sold it assumed they were antique and possibly French. It has been intriguing to find out.
One chair had already been re-covered prior to my customer making the purchase. My job was to cover the remaining armchair and sofa. The pieces were stuffed with fibre, coil sprung back and seat but without an independent sprung edge, therefore likely to always have had a seat pad. There were foam seat pads covered in the classic "Chelsea" rose print from Sanderson with a tassel trim (this print was very popular with a certain generation). My brief was to recover the seat pads in a herringbone wool and use a rust-coloured leather from Yarwood for the rest, with dome head decorative stud finishing.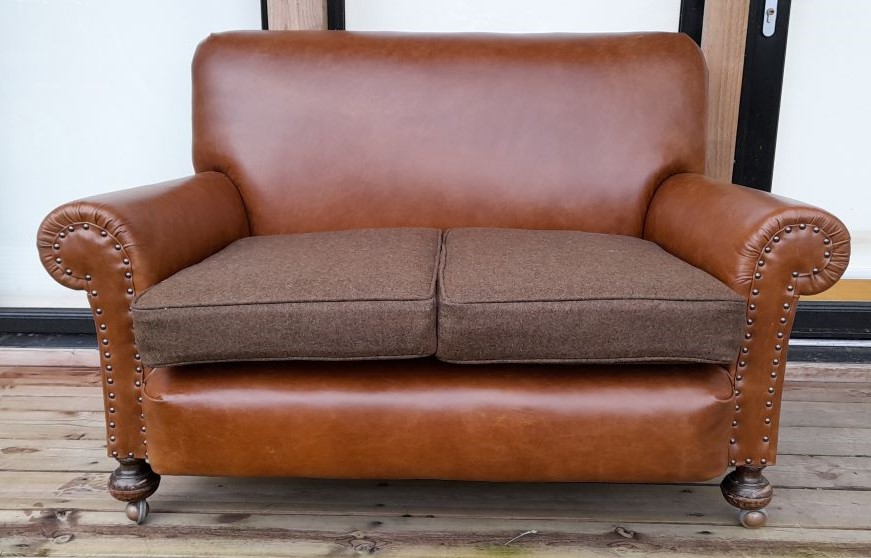 My first discovery was that the arms (no stuffing) were straight on to plywood. This, without doubt pointed to post war mass manufactured pieces. None of the pieces had been previously recovered and tacks were used throughout. I laid a 1" thick layer of rubberised hair sheet and cotton felt on to the arms but left the back intact. Apart from a stamp identifying the leather as Connolly Leather London, I did not find a manufacturers mark. A couple of shortcuts had been made (which reinforces my assumption that this was commercially rather than artisan made – there was no hessian behind the outside back and, remarkably enough, none of the coil springs had been lashed. The hessian spring cloth unsurprisingly had worn through, so I had no choice than to rebuild the seat foundation.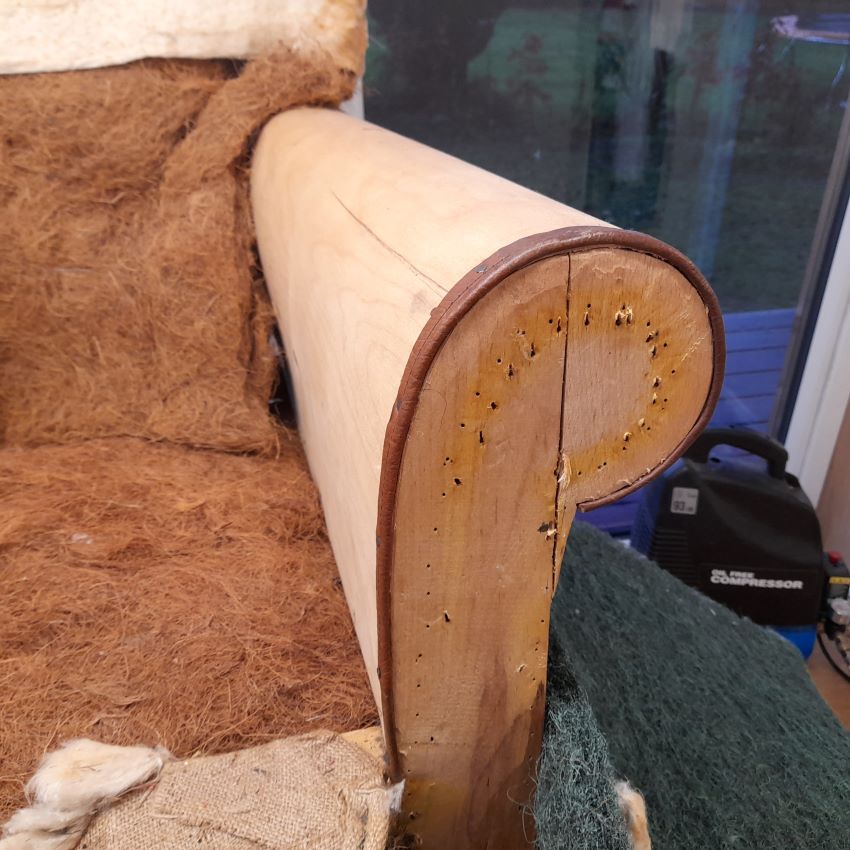 Far Left: The plywood laid over the arm frame dating the piece post-war
Left: The Connolly leather mark found inside the original hide.
So, returning to my story – what exactly did I find "Down Your Sofa"? which led me to supposition about the previous owner?
Down the sofa itself I found:
Top left hand corner of a typed letter giving name as Mrs Nancy Alice Bain, 1 Groathill Gardens West, Edinburgh, East Lothian. I believe this to be the address of the owner – it is a private address in a domestic sofa
A strip of negative film from a Kodak Ektar 12 camera (1978 – 1981) I could not decipher the image but it looked like a holiday chalet
An Ardath Tobacco Company "Life in the Service" Cigarette Card, No11 of a series of 50 – 1935. This is older than the supposed age of the sofa – cigarette cards were a popular collection hobby – could this have fallen out of a collection?
Oriental strip wood painted wall hanging (12" x 24")
Blank notepaper piece
Note written by an old hand to shape the contents of a card in reply to a party invitation (signed Honey and reference made to Alan, now too old to drive beyond the shops) It is highly likely that this was a draft of a message that would have been copied into a greetings card, therefore written by the sender at home rather than a note received.
An old "Safeway" plastic bag (9" square) carrying the supermarket logo 1962 – 1980. Evidence of British domestic life in the period
A cut out from a newpaper (2013) for mini fruit trees, container shrubs from the Edinburgh Evening News. Geographically ties the piece
A corner of a knitting magazine (or pattern book) published in Scotland showing a toddler knit outfit. Evidence of a lifestyle leisure activity in keeping with the picture built
3 Knitting needles
Two reels of cotton thread
Green yarn
Nappy pin. These went out of use about 40 years ago, evidence of established family life
plastic "chrome bumper" from a childs toy
Metal clip bookmark. Reading was a popular pastime last century
Hair clip – this and the items below indicate a woman who took pride in her appearance
Lipstick
Tweezers
At least 50 kirby grips
Receipt from Boots UK Ltd Edinburgh (no date)
Two chocolate box contents slips – and someone with a passion for chocolate
Wrapper from Roses chocolate
Clear red cellophane sweet wrapper
Kids chew wrapper
Paper corner from Setlers packet – perhaps too much chocolate!
Square Rennie Indigestion tablet
Remegel wrapper
Three scraps of newspaper – too small to identify but 30-40 years old from typeface
Perished rubber band
Small chain
In the Armchair: Apart from the kirbygrips, this does indicate the classic image of the man of the house enjoying relaxing in his armchair, slippers on, newspaper and often a pipe (but no evidence of that!)
Pen knife
Pencil
One old penny
About 10 kirby grips.
So who knows what history you are sitting upon – or rather caution when you lose something down a sofa!